Why We Have Shark Week at the RAC
If you come to the Deli or Kids Club the week of July 29th through August 4th, you will find that we are celebrating Shark Week. This is a tradition which started when I became the Food & Beverage Director at the RAC 9 years ago. It grew out of my great interest in sharks and a desire to try something different to add a bit of excitement during the mid-summer months.
Many people ask me why the obsession with sharks? My response is always; first, think of it as a passion, not an obsession. Second, is a one word reply - Jaws. While the movie Jaws scared me, along with virtually everyone who saw it, it also weirdly fascinated me. I wanted to learn more about these terrifying creatures. I checked out books from the library, watched Jacques Cousteau on Mutual of Omaha's Wild Kingdom, rented as many shark movies as possible, and when we finally got cable TV, could watch Discovery Channel to learn more.
It was the Discovery Channel that created and first aired Shark Week in the summer of 1988. Its mission was to focus on conservation issues and to properly educate viewers on the multiple misconceptions of sharks. The first year, the normal ratings for Discovery Channel doubled during Shark Week.
Every year thereafter, the ratings and excitement grew. Interestingly in 1994, Peter Benchley, author of Jaws, agreed to host the show. In 2001, Air Jaws also made its debut and showcased great white sharks breaching water while catching their prey in South Africa. This year will mark the 31st birthday of Shark Week. It is the longest running cable television show in history and is shown around the world.
What we do special during Shark Week
This year the Club Café & Deli will be featuring a "shark cage full of" themed items during Shark Week. We will have food offerings like fish & chips, "We need a bigger boat" tuna sub sandwich, Greek shrimp salad, kid's chicken of the sea sandwich, shark jello, and even a Sharknado shake. Both the Deli and the Cabana will be decorated. You will see some people wearing shark clothing and you might even see a shark walking around the club and exercising!
How should you celebrate Shark Week?
Come to the RAC
Take the kids to Kids Club for shark-themed fun
Hang out in the Deli and watch Shark Week on TV
Eat seafood
Get a Sharknado Shake
Talk sharks with Mike
Dress the part
While not everyone owns a couple of shark costumes (as I do), there are more options for shark clothing than one may think. For example: There is a PGA golfer who is nicknamed The Great White Shark. He also has a line of clothing that happens to have a shark on each piece.
Start your own collection of shark memorabilia
If you, like me, get "shark fever" it can be fun to gather shark related stuff. Over the years, my collection of shark items, water bottles, toys, cups, etc. has grown. A couple of my favorites are the shark oven mitts and a shark toy with a laser beam on his head.
Happy Shark Week Everyone!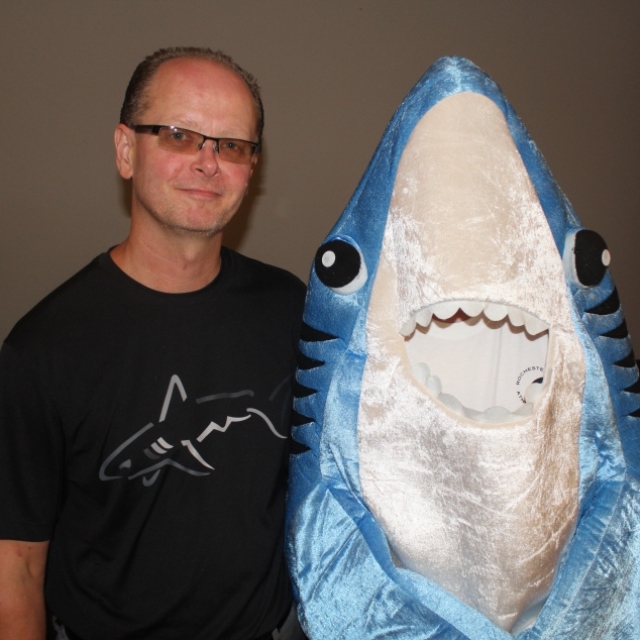 Mike Brekke
Mike Brekke has been the Food & Beverage Director at the Rochester Athletic Club since 2009. He has a passion for food and loves to try new recipes. Mike is married to a wonderful wife who has tolerated his shark obsession for over 25 years. He has 3 boys who think his love of sharks is a bit weird.

Contact Mike Brekke at (507) 287-9325.
Sign up for our newsletter
By submitting this form, you are granting: Rochester Athletic Club, 3100 19th Street NW, Rochester, Minnesota, 55901, United States, http://www.racmn.com permission to email you. You may unsubscribe via the link found at the bottom of every email. (See our Email Privacy Policy for details.)