Stretch It Out: The Benefits of Resistance Bands
With many of us stuck at home this past year, you may be looking for ways to get up and get active again. If you are struggling with lasting Covid pounds or lost muscle you may be interested in a simpler and safer way to ease back into your fitness routine. One option you may not have considered is incorporating elastic resistance bands into your workout.


In this article, I'll explain four reasons why adding resistance band training into your workouts is a great idea.
1. Cost effective and easy to use

Resistance bands overall are easy on the wallet. With most sets of bands priced from $15 to $50, everyone can afford to bring the gym to their home, or anywhere else you work out! Bands can be bought separately or in a set, and come in a variety of sizes and weights.
Most sets of resistance bands include a light, medium and heavy option for bands, but some are labeled by pounds of resistance. Depending on personal experience and fitness level, some people prefer miniature resistance bands to the regular long bands due to their small size and lighter resistance. The long bands can look complicated at first, but with a bit of practice and instruction, you'll be a pro in no time!
2. Easy to store and take with you
Many of us have ten different things going on at once - picking up the kids, making dinner, cleaning, etc. and trying to squeeze in a workout a few times a week can seem impossible. This is where resistance bands can come in handy with their space-saving convenience.
Bands don't take up much space and can be stored practically anywhere. They can easily be carried with you and also are great for putting in a suitcase for when you're traveling and want to get a hotel workout in. A regular set of bands can give you a great full-body workout anytime, anywhere.
Some bands come with different accessories, including carrying cases, door anchors, carabineer clips and even handles. These pieces give you the opportunity to customize the bands for whatever exercise you choose, and within a few seconds, you can change the accessory and do a completely different exercise.
3. They provide unique advantages beyond just gaining strength

Adding bands into a workout may seem challenging, but I promise you, it will be worth it! Resistance bands have been shown to increase force production and engagement of smaller muscles, as well as help with overall balance, flexibility and motor control.
They also work muscles in a different way than other strength training: "The use of elastic bands provides a variable load throughout a range of motion with the most resistance experienced at or near full muscular extension, thus better mimicking length-tension relationship of most muscles in the body" (Wilson and Kritz, 2014).
4. Bands and the results they provide are for everyone
Sometimes we may think that elastic resistance bands are mainly used for physical therapy sessions or with a de-conditioned older population. These are some great applications for band training because "RBR (rubber based resistance) provides a low-load resistance for initial rehabilitation, and when used in conjunction with constant external resistance, it can gradually and progressively increase strength in weak atrophied muscles" (McMaster et al., 2009).
However, these bands can be effective with practically everyone. Athletes commonly use bands to help increase their speed and power output, as well as for recovery and injury prevention. For those of us who aren't athletes, incorporating resistance band training can help us access some of these same benefits!
As we move past the challenging year that was 2020, I encourage everyone to get out of their comfort zone, and try some new things this year. One positive step could be to stretch in a new direction by incorporating resistance band exercises into your workout.


Happy Training!
SOURCES:
McMaster, D Travis1; Cronin, John PhD1,2; McGuigan, Michael PhD, CSCS1 Forms of Variable Resistance Training, Strength and Conditioning Journal: February 2009 - Volume 31 - Issue 1 - p 50-64. doi: 10.1519/SSC.0b013e318195ad32
Wilson, John MSc1; Kritz, Matthew PhD, RSCS*D2 Practical Guidelines and Considerations for the Use of Elastic Bands in Strength and Conditioning, Strength and Conditioning Journal: October 2014 - Volume 36 - Issue 5 - p 1-9. doi: 10.1519/SSC.0000000000000087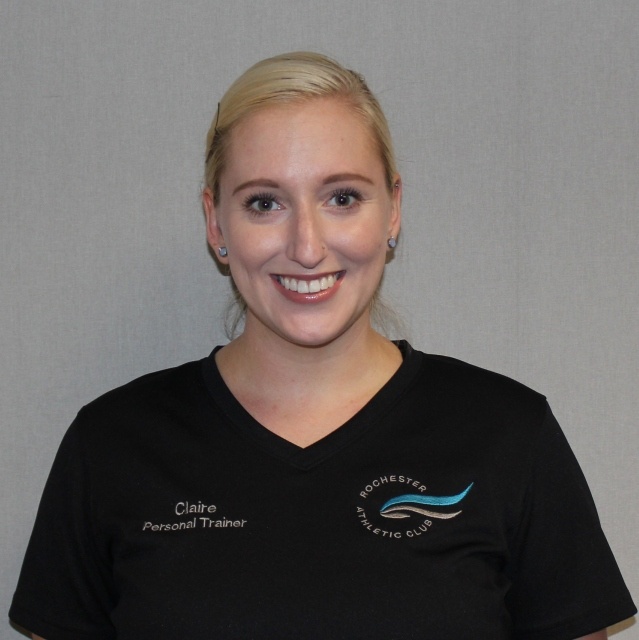 Claire Woodward
Claire grew up in Pine Island, Minnesota, just a short drive from Rochester. She is an Exercise Science graduate from Winona State University, and is a Certified Personal Trainer through the American College of Sports Medicine. In her free time, Claire enjoys working out, playing soccer, spending time with friends and family, and watching movies.

Contact: Claire Woodward
Sign up for our newsletter
By submitting this form, you are granting: Rochester Athletic Club, 3100 19th Street NW, Rochester, Minnesota, 55901, United States, http://www.racmn.com permission to email you. You may unsubscribe via the link found at the bottom of every email. (See our Email Privacy Policy for details.)