Do you ever feel like you aren't getting the results you want from your exercise? Do you lack motivation? Or perhaps have motivation but still can't seem to reach your goals and get frustrated?
Does this describe you? I know it has been an accurate description of me in the past. I have been lifting weights for 23 years, having started with resistance training at seven years old. I have been a personal trainer for over ten years and I have studied exercise science in the classroom and laboratory setting for just under ten years. I have won State, National, and World championships in the Bench Press. I have trained and competed alongside mixed martial artists and boxers, some very high level. I am not sharing these credentials to brag, but rather to share with you that everyone goes through periods of struggle. No matter how much experience you may have, we all need help from time to time. So how do you really get the most out of your fitness club or gym membership? It's probably easier than you think.
Researchers in the UK recently published a groundbreaking study on the effects of structured and supervised exercise versus random exercise performance. The study included 369 participants with an average age of 43. These sedentary participants were split into four groups:
CONT: The control group had no fitness facility access or professional trainer access.
PAC: The Physical Activity Counseling group also had no fitness facility access, but they did have access to fitness professionals once per month.
FREE: This group had access to a fitness facility, but no access to fitness professionals. Basically they did their own thing.
STRUC: The structured group had access to a fitness facility as well as personal training from fitness professionals.
The results were very clear, presented here as charts showing the average results for each group: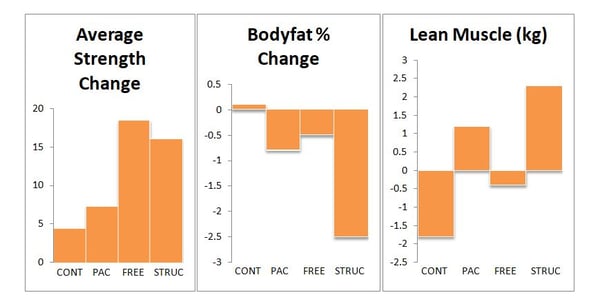 There are several interesting findings:
First of all increases in strength occurred in all groups, with the largest difference being noted in the group left on their own. Getting stronger is one of the "easiest" adaptations our body can make. To be frank, our bodies want us to be strong. Even the group that literally did nothing noticed a small increase in strength.
When we dive a little deeper into the results we see that body composition changes are much more effective when following a structured workout. The group that did nothing increased their body fat percentages, while the group that had a gym membership lost roughly 0.5%. The group that received fitness counseling once per week lost just under 1% body fat, while the group that engaged in structured professional programming lost 2.5%, Simply put, those that had active coaching lost FIVE times more body fat than those that showed up to the gym and did their own thing.
Finally, lean muscle mass decreased (this is a bad thing) in both groups that did not use some form of fitness professional. The group that did not even have gym access yet used a fitness counselor once per month gained 1.2 kilograms of lean muscle mass, while the group that used structured personal training gained 2.3 kilograms.
So what does all this mean? The researchers put it best: "Although increases in strength were observed across all RT (resistance training) treatments compared to controls, significant improvements in both strength and body-composition were observed only in programmed and/or supervised RT. Data suggests general increases in PA (physical activity) have limited impact upon body-composition in comparison with interventions including RT.".
Simply showing up and going through the motions is not enough if you are looking to really take control of your life, body, and health. Increasing physical activity is not enough to get you the results you want. Following a structured program is essential to progress. This is true for everyone from sedentary individuals to World Champions.
I don't want you to feel discouraged by the fact that having a goal or working hard is not necessarily enough. A goal without a program will get you nowhere fast. Hard work without structured programming could end up leaving you feeling like you are making progress only to find that you have not.
However, there are many options available to those looking for structured programming. There are programs available all over the internet that hold some benefit, but remember that these programs are one size fits all…and fitness is definitely not one size fits all. We all have unique goals, body structures, and personalities. After all, that's the real secret to getting the most out of your exercise: following a structured and unique program specific to you and your goals.
If you fall somewhere between sedentary and World Champion, we can help you reach your goals! Whether you are looking for personal training, having custom routines created for you on a regular basis without in person training, or want to use small group classes, our highly educated Fitness staff can help you safely get the results you want and need. Please check out our Personal & Small Group Training web page to learn more.
References
All direct quotes, re-created chart information and results come from the following study:
Mann, S., Jimenez, A., Steele, J., Domone, S., Wade, M., & Beedie, C. (2018). Programming and supervision of resistance training leads to positive effects on strength and body composition: results from two randomised trials of community fitness programmes. BMC Public Health, 18, 420. Retrieved from: https://www.ncbi.nlm.nih.gov/pmc/articles/PMC5872542/
Sign up for our newsletter
By submitting this form, you are granting: Rochester Athletic Club, 3100 19th Street NW, Rochester, Minnesota, 55901, United States, http://www.racmn.com permission to email you. You may unsubscribe via the link found at the bottom of every email. (See our Email Privacy Policy for details.)