All Aboard for Kids Club!
Our team loves to welcome children at the Kids Club train station. Children ages 6 weeks to 6 years can be checked into our childcare facilities, allowing parents to take advantage of what the Club has to offer.
Kids Club is a wonderful place where each week a different theme is celebrated. You can trust our staff to provide a safe environment where play is encouraged. Parents can even leave the Club with our drop-off option!
At times throughout the week, Kids Club offers:
Active play in the Kids Play Area
BEAM floor display games
Choice play time
Crafts and Sensory Table
Free play
Jump and Slide Mini Inflatable
Lots of Games and Toys
Neighborhood play for 4-6 year olds
Painting
Stories and Songs
See BEAM floor display games in action at joinbeam.com. Scroll down on their site to watch a 30 second video.
For fees and important details see the FAQ section below.
New to Kids Club? View our Kids Club Policies & Procedures
Preschool Play Area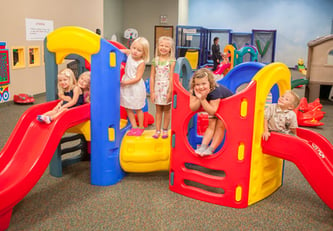 Behind Kids Club (or just up the steps from the Neighborhood Family Entertainment Center), we have an active play area designed for our youngest members. Available whenever the main Club is open, this area is full of age-appropriate ways to keep little ones moving, engaged, and entertained. Watch as your child engages in imaginative play and then hurries to the next option in our multi-themed active playground.
The Preschool Play Area Features: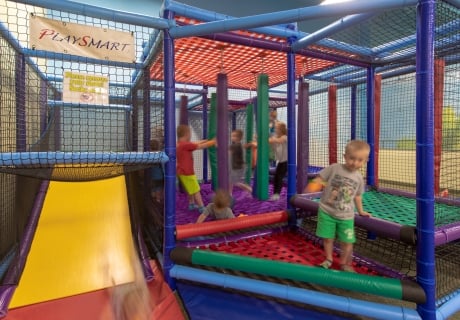 Cushioned PlaySmart play structure and mat play area
Scooters, push toys, rockers, and cars
A mini coaster
Low to the ground mini dinosaur to climb on
Adjustable baskets for shooting hoops
Wall mounted learning, activity, and coordination games
Many low slides and climbers to crawl on and play through


Kids Club FAQ