Develop new friendships, have new adventures, and create lasting memories!
Camps give kids a great opportunity to make new friends and have new experiences outside of their neighborhood and classroom. They provide children with an environment that nurtures experiential education and results in self-respect and appreciation for human value. Campers stay active, gain a sense of community, develop intergenerational relationships, and learn through first-hand experiences.

Our teams are dedicated to making sure that your child has a positive and memorable experience. Each team member goes through an extensive interview and training process to prepare them for the summer, including first aid, AED, and CPR certifications; as well as COVID-19 situational training.
RAC Summer and Fall Camp COVID-19 Safety Guidelines
The safety and health of campers and staff is always our highest priority, and camps have a long history of planning for and managing communicable diseases. We will be providing the following safety measures to limit exposure to potential Covid-19 spread:
Campers and camper's families should ensure they are following state guidelines prior to camp and during camp, including gathering size and travel limitations, wearing masks, and social distancing.
Campers with preexisting medical conditions must have written clearance by their primary care provider to attend camp.
A waiver, including an acknowledgment of COVID-19 risks, will need to be signed by parent/guardian for each camper.
Parents of campers will complete a health screening form daily at arrival. Campers should not come if they are feeling ill and will be sent home when sick. A follow up will be done with other campers if we are notified of a positive test in a camper.
Each camper should bring a water bottle each day to minimize the use of water fountains. Water bottles will be filled by staff.
Campers will be kept outside as much as possible, maintaining social distancing. Campers are strongly encouraged to bring masks for use should we need to be indoors.
Camp capacity has been limited to maintain social distancing; campers will be further separated into small groups.
We are limiting the number of shared supplies and equipment for activities by providing each participant their own for each day.
Staff are required to wear masks.
Camper's food will be prepared by qualified and licensed food service staff. Pre-packaged snacks are provided during the day.
We are reinforcing health etiquette with the campers.
We will be washing hands frequently and providing hand sanitizer for use throughout the day when entering/exiting buildings and other appropriate places.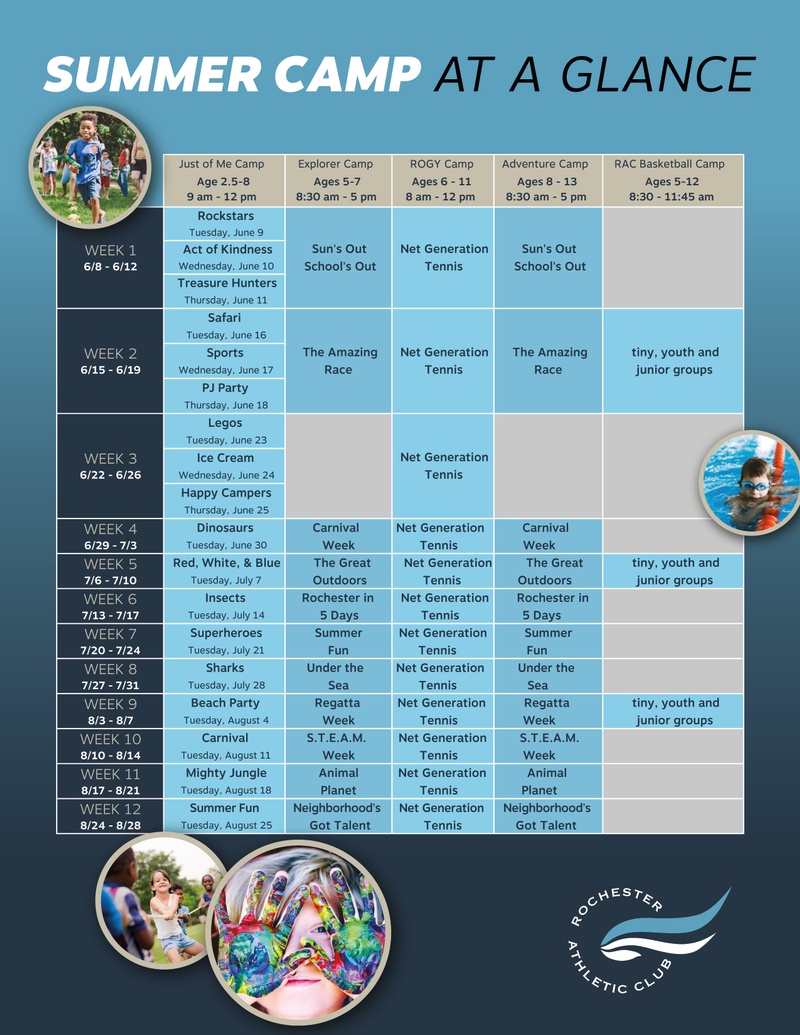 2020 Summer and Fall Camps
Explorer and Adventure Camps (Ages 5-7 and 8-13)
These two camps are for kids who want to get out of the house and have some fun. It is the perfect option for parents that work during the day. Each week is themed where children participate in games, activities, crafts, outdoor play, off-site field trips, and swimming.

Just For Me Camp (Ages 2.5-8)
Need a camp for your 2.5-8 year olds? We have games, crafts, snacks, outside play, and a whole lot more. These are one-day camps. We have added extra Wednesday and Thursday camps during June.

RAC Basketball Camps (Ages 5-6, 7-9, and 10-12)
Coach Eric Williams is joining the RAC for a week of developing basketball skills. Coach Eric has over ten years of experience training multiple sport athletes. He has coached players of AAU teams and players featured by the Harlem Globetrotters. This a fun camp if you are new to the sport or want to build on your technique.

ROGY Tennis Camps (Ages 3+)
A week of tennis fun! These camps include age and ability appropriate fitness activities, tennis instruction, crafts, and snacks. No tennis experience is necessary.
---

Sign up for all camps is required in advance. To register:
---
Additional Camp Information and Forms:
Forms for Members:
Forms for Non-Members: