A Few Notes on Motorcycle Parking
We sometimes get asked the question: "Why do we have so many motorcycle parking spots?"
Although the Rochester Athletic Club puts many parking block barricades out close to the motorcycle parking area, the actual motorcycle parking spots are on the concrete pad and not the entire blocked off area. The concrete pad is there to prevent motorcycle kick stands from sinking into the blacktop, especially during hot weather.


The reason we barricade off a larger area is for the safety of our members and guests. This area serves as an entrance/exit for parents with young children to the outdoor desk entrance to the pool. To keep drivers' line of sight clear, we put barricades up so that no cars park in this area.


The extra spots are barricaded for the summer and once the outdoor gate is closed for the season, the additional spots are opened back up for cars to park.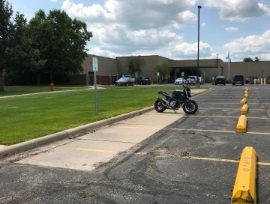 Sign up for our newsletter
By submitting this form, you are granting: Rochester Athletic Club, 3100 19th Street NW, Rochester, Minnesota, 55901, United States, http://www.racmn.com permission to email you. You may unsubscribe via the link found at the bottom of every email. (See our Email Privacy Policy for details.)