Long Life, Healthy Life, Happy Life
Everyone wants to live long; everyone wants to be happy. But what about living long and happy because you are healthy? We often forget that the foundation of happiness, different than joy, is rooted in our health.
Imagine, the happiness you feel seeing your children running around the soccer field, when you ski down the slopes, shoot a basket, or can get up and down easily to play with your grandchildren! We forget how the simple act of personal health is a huge contributing factor to life satisfaction and happiness. Here at the RAC, we love to celebrate health, family and community, but we aren't the only ones.
Living long and happy because of one's health is how The Blue Zones project came about. The Blue Zones was a research initiative started by Minnesota native, Dan Buettner. Dan wanted to identify:
The factors that play a role in the health of individuals who live longer.
Why they felt they were happier than others their age.
The differences between health in America and health in the places that had the highest rating of happiness and life longevity, people easily living well into their 90's and 100's without health complications.
The Blue Zones are five locations on the earth that make up the world's happiest, healthiest, and longest living people.

You might be wondering what their secret is, what vitamin they take, if they drink celery juice in the morning, don't eat after 7 pm, or if they strictly lift weights. Perhaps, this whole thing sounds fascinating, intriguing, and maybe too good to be true, right?
Dan has done extensive research, including visiting these places, eating with the locals, joining in on walking groups and participating in the volunteering projects these communities do. The result: cookbooks full of recipes from the people who easily outlive most, and books that summarize all the information he has learned and gathered throughout his research. The two most popular being; "The Blue Zones of Happiness", and "The Blue Zones Solutions", including a chapter on how the people in these places handle their money and finances.
The reality is, there are no magic tricks or special vitamins or specific rules they follow. But the difference is in the way they view life, food, community and clearly that they simply prioritize their health, over their 401k's, over getting a promotion, over weighing a certain number, or over buying a new phone. It is definitely a mindset shift.
Let's think again about how much your own health truly impacts and affects your quality of life. Perhaps after reading this, it might just spark some ideas for yourself on what current health habits you have or may like to start.
First, The Blue Zones are located throughout the globe including:
Ikaria, Greece
Loma Linda, California
Nicoya, Costa Rica
Okinawa, Japan
Sardinia, Italy
Each location has different dishes or foods they enjoy depending upon what is local to them as well as what is cultural. The first point is, there is no one specific diet. However, there are some key factors to consider.
People in The Blue Zones focus on these things each day:
Drinking mostly water
Enjoying coffee every day
A few glasses of red wine throughout the week
Eating mostly plant-based diet, with some eggs, fish and meat sparingly as you need, and cutting out sugar or save it for special occasions such as celebrations, holidays, parties
Eating a handful of nuts daily
Enjoy good quality bread, such as sourdough from a local bakery or farmer's market
Eating fruits and vegetables both raw and cooked at every meal
In addition, they have found that there are some important factors that contribute to overall health and happiness.
Everyone needs:
Something to do - a job, a goal, a project
Someone to love - friendships, relationships, marriage, pets
A way to give back - volunteering in your city, serving at your church
A sense of community - being a part of organizations, attending city meetings or participating in local gatherings
Faith/Religion - belief that you are not in control but that you have a purpose, and good will always prevail
Good food - it is meant to be enjoyed; it is meant to be enjoyed together
Natural movement - walking, biking, hiking, take your dog out on a long walk, run around the park with your kids
Passion about something - what hobbies do you enjoy, don't be afraid to try new things, learn a new skill, take a class
More sleep - naps are always okay, going to bed early, going to bed without your phone, being okay to lay in bed awake and let your body destress, making it important for your family to get good sleep
After reading this list, it might be easy to see why these people have good health and feel happier. They aren't caught up in any fad diets, crazy restrictions, endless driven cycles, racing around, or feeling behind. Rather they are very much in the present and in tune with their bodies. They are both supported by and supportive of others by being located in a like-minded place. Realistically, it is easier to be healthy when we surround ourselves with healthy people, just like it is easy to quickly join in on negative talk when we surround ourselves with negative minded people.
How many people's New Year's Resolution is to go to the gym or lose weight? In January-February the gym is packed, but by March everyone's motivation has severely dwindled, and you might find yourself in that place, thinking, "Oh well, I give up, maybe next year". Perhaps, if we can reconsider what we do, who we are around, and what we value, it would become much easier to make lifestyle changes that will positively affect our health and longevity. Maybe we wouldn't have these New Year's resolutions that we never quite accomplish and continue to push off year after year.
Now comes the tricky part, as there could easily be two responses to this information. One, "That's impossible. It's a myth. It doesn't work like that." or two, "Well, nice it works for them, but it won't work for me. Healthy food is too expensive and my kids won't eat that food. We do so many sports. We don't have that kind of time".
These responses are normal and also, understandable. In our current culture, it does feel like simplistic health is not as much of a priority, let alone trying to make time to cook dinner that is healthy and have everyone like it. There is no denying that we have our work cut out for us.
So, let's highlight something very important and refreshing - this information is still surprisingly simple.

You can make it easier to apply to your life by picking one thing at a time or a few things that stand out to you. You might start making some changes like adding in a vegetable at dinner or taking a family walk twice a week. Perhaps Saturday afternoons are for naps and Sunday afternoons you come to the RAC and play together as a family. Life is good when we find time for the simple things that bring happiness without costing money or sacrificing health, good food, connection, family, rest, purpose, and community.
We live in an amazing place, a beautiful city. We have access to great healthcare. We have so many good grocery stores filled with good food. We have a farmers market, a local co-op, and nearby farms. We have churches. We have beautiful walking trails, places to ski, swim, skate, and play basketball. We have parks where our children can play. We have a plethora of coffee shops for enjoying a good coffee and time connecting with friends. We have many organizations to volunteer at such as The Landing, the Boys and Girls Club, Paws and Claws, and the Jeremiah Program.
We also have places like the RAC which allow us to celebrate and continue learning about health, wellness, and community. One of my favorite things about our club is that it is a place designed to encourage everyone to enjoy life and to live well. That is what makes it different from other gyms. The RAC at its core is designed to bring people, families and our community together.
Here you can:
Learn about healthy habits and eating well - come meet with one of the dietitians
Enjoy exercise and movement - there are so many options, EGYM, weight floor, personal trainers, etc.
Try something new - we offer a variety of group fitness classes to choose from
Enjoy community - workout with a friend or walk with your family around the track
The RAC is place where we hope to always welcome each member and guest. We want to encourage you to pursue health, helping you create positive experiences each time you walk through the doors by continuing to share our passions for health, fitness, nutrition, and family - much like in The Blue Zones. Cheers to living long and happy because we are healthy!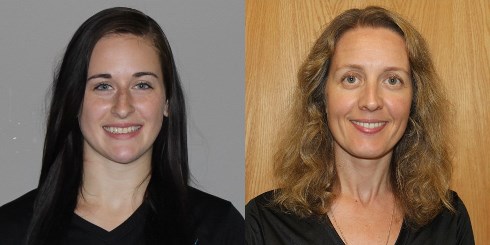 Makayla Krajewski and Olga Wheeler
Makayla Krajewski and Olga Wheeler are Personal Trainers at the Rochester Athletic Club.

Contact Makayla Krajewski
Contact Olga Wheeler