Senior Fitness: This New Year, Balance Your Fitness Plan to Balance Your Health
The New Year is a great time to refresh your workout routine to keep it FUN and motivating. Many of you have an established workout time and routine that you have followed for months or even years. Such routines are great, but require occasional revision to hold your interest and maintain balance. Below are a few reminders of critical components in a workout plan, as well as suggestions for implementing them.
What is the recipe for a balanced fitness plan?
Stretching is critical before exercising. Ensuring that joints and muscles are moving comfortably helps prevent injury, as getting muscles warm before exercise leaves you less susceptible to strains during your workouts. In addition, the same moderate level of stretching should be completed after a workout. With more flexible muscles and mobile joints, you can use your full range of motion and increase longevity.
Strength Training should be a main focus, to maintain or build bone density. Strength training is essential for reducing the risk of age-related bone disorders, such as osteoporosis. Regular exercise has been proven to be the most effective method for preventing osteoporosis and falls. Additionally, studies show that strength training can increase bone mass, density, and strength, reducing the risk of injury and improving balance and coordination. Weight training should be performed at least twice a week for a minimum of 20 minutes.
Cardiovascular Endurance is important to keep the heart healthy. This includes walking, jogging, swimming, biking and dancing. By improving your cardiovascular fitness, you will be able to perform more activity without being short of breath.
HOW to make it happen at the RAC!
Water Fitness is ideal for all, especially those with arthritis and other forms of joint pain, as the buoyancy of the water puts less stress on your joints. Additionally, water brings natural resistance, which increases strength, cardiovascular endurance, flexibility, and balance without joint stress.
Yoga is another low-impact form of exercise that improves muscle strength, mobility, balance and flexibility, joint strength, and respiration, all of which are crucial to your health. Chair yoga and Gentle yoga are two yoga programs that provide less stress on muscles, joints, and bones. As an added bonus, yoga participants have better quality sleep, fewer instances of depression, and report a general sense of well-being.
Strong Bones is a class that offers strength training through a circuit of weight resistance exercises and also focuses on posture, balance and body awareness. This is a new class and participants are already recognizing increased strength and agility.
Pilates is a low-impact form of exercise. In pilates, core strength is emphasized through core and balance exercises, breathing, alignment, and includes pilates accessories to help build strength. Pilates has been shown to improve balance, develop core strength and increase flexibility.
EGYM is a strength workout that includes a set of simple, effective, and personalized weight training experiences. EGYM is free and members won't need to remember resistance weight or seat settings. The program is set up by a fitness trainer according to each individual's strength and goals. EGYM is a very effective strength training program.
Walking is one of the least stressful and most accessible forms of exercise. Distance and goals differ for each person. Walking promotes a healthy lifestyle, while strengthening muscles and lowering your risk for many diseases. The RAC track is safe in all weather conditions!!
Some final reminders:
Exercise, sleep, healthy eating, and drinking plenty of water can assist in preventing disease, injury, keeping your physical body in good shape, as well as keeping your mind sharp.
If you would like assistance getting started or want to make a change in your workout program we are here to help!
Keep your workout FUN!
"We don't stop playing because we grow old. We grow old because we stop playing."
-George Bernard Shaw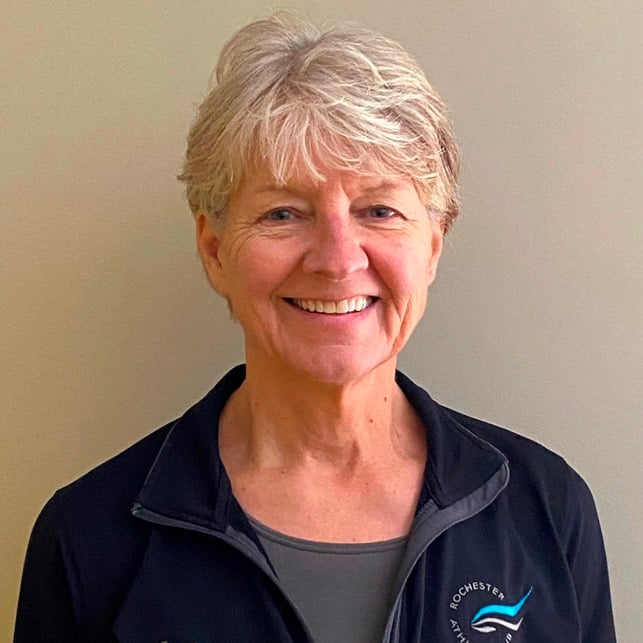 Kay Frick
RAC Connection Specialist Kay Frick helps the experiences of our members meet their expectations. That could be by helping new members get a quality start to their fitness program or by helping any of our members feel supported and cared for at the RAC.

Contact Kay Frick at (507) 287-9335 ext. 346.
Sign up for our newsletter
By submitting this form, you are granting: Rochester Athletic Club, 3100 19th Street NW, Rochester, Minnesota, 55901, United States, http://www.racmn.com permission to email you. You may unsubscribe via the link found at the bottom of every email. (See our Email Privacy Policy for details.)