Returning to Tennis, the Game We Love
Today is the twenty-fifth day of no tennis for me. It is longest court hiatus in 23 years by a longshot, and completely outside of my control. Many thoughts have gone through my head. With the always evolving Coronavirus situation, I wonder what tennis will be like when we return to the courts

.
Professional Tennis
As a tennis player and coach, many of the lessons that I learn are from watching the best. Imitating the technique and habits of the pros is a crucial part of developing at all levels. If I want to hit a perfect serve, I want to see how Roger Federer does it! What is necessary for professional tennis to take flight again?
Travel

The Grand Slams and even the lower level tennis tour events are made up of players from all over the world. I cannot see an event taking place until people not only feel safe traveling, but are allowed to travel across borders. I believe professional sports leagues that are made up of players and teams within our borders will compete much sooner than sports teams that must travel across borders continuously in order to compete. Travel will be a huge obstacle for professional tennis until the Coronavirus situation calms down throughout the world.

For professional tennis, there are many different organizations that would have to be in agreement. Unfortunately, tennis does not have a commissioner charged with organizing grand slams, tour events, sponsors, and player concerns. Wimbledon will not be played this year and many other events will most likely be cancelled as there are simply not enough open dates. I am hoping for one more grand slam event this year, but I may have to wait until 2021.
Spectators

I am a big proponent of sponsoring some tour events with no or few spectators in order to allow physical distancing. I do not believe that we will quickly return to when crowds will be cheering on the touring tennis players. Let's imagine that travel is allowed and the top players can all attend professional events again. Can a grand slam such as the US Open continue without setting new attendance records year after year? Let's hope so.

I would say that tournament organizers and television broadcasters will need to become creative to still be profitable. Television coverage could include many of the outer courts and even the practice courts. Additionally, limits on event attendance and space between stadium seats could be part of each event. My hope is that, even with lower revenues, touring is still sustainable during this period so that the sport can slowly recover.

I believe that the players will miss larger crowds, and will be anxious to play even if it means lower prize money. Love of the game will bring the players back to the courts!
Protocols

Will we need to have independent health officials to determine risks of infection? Will a player be allowed to play a match with a common cold? There may be mandatory temperature checks before players, crowd, and officials are granted venue access. The ramifications are difficult to comprehend. It would be extremely gutting to be forced out of an important match.

Professional tennis players will have to change their match rituals and routines. We have all noticed the nasty habit of tennis players using the ball person as their personal towel attendant. Can we still have a ball/towel person in professional matches? For me, this would be a refreshing change to see! I imagine both players will need to wash their hands or use hand sanitizer before touching the tennis balls. After one player serves, it may be necessary to sanitize each ball.

The hand shake after completion of a tennis match is part of what makes a tennis match unique. How will tennis players convey the symbol of sportsmanship which is shown by this handshake? For now, I am rooting for the racket tap at the net.
Club and Recreational Tennis
How is tennis going to be different when we go out and play again?
Prior to this pandemic, I have never had a bottle of hand sanitizer in my tennis bag. As we move forward, I believe that I should model using it and encourage my players to do the same.

Although tennis is not considered a contact sport, singles play may be preferred at this point.

Communication in doubles will have to be almost exclusively through signals. Discussions about strategy such as where you are hitting a serve are very common and tough to do secretly from six feet apart.

The USTA has concerns about players coming into contact with common objects such as gate handles, net posts, benches, and even the court surface itself. These concerns must be eased or accounted for before we officially return to the court.
My hope is that tennis in the short term will be played, but with restrictions. For the short term, both players must wash their hands and show no signs of sickness. Groups will be limited. The bottom line is that if it is an approved form of physical fitness, let's find a way to play and to be safe!
Optimistically, I believe we will eventually be playing tennis with few worries. Tennis, and life, will return to normal. It may take a few months or it may take a year for USTA and professional events to return in some form. Recreational tennis will most likely return first. Tennis players must draw on patience. The Coronavirus has surely tested us, but we are strong and we will be back playing the game we love!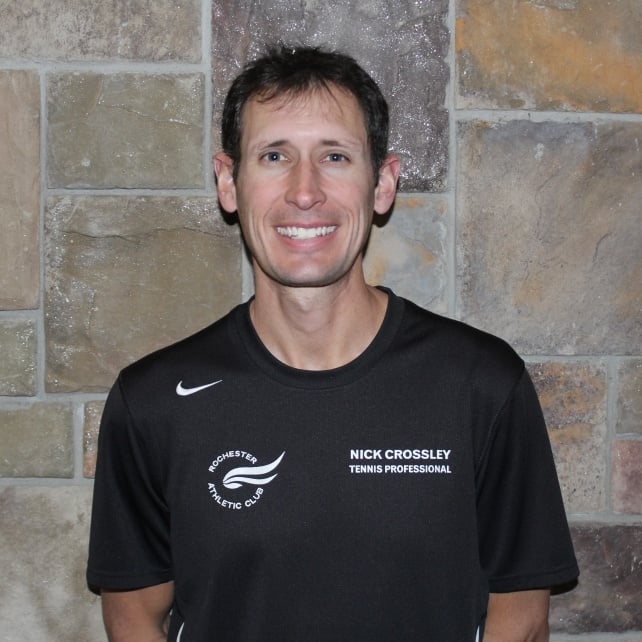 Nick Crossley
Nick has been teaching tennis since 2002 and enjoys working with the casual tennis player as well with higher level college and high school players. Nick is currently the head coach of the Rochester Century boy's high school team and assistant coach of the Carleton College men's team. He enjoys spending his free time with his wife and their two boys.

Contact Nick Crossley at (507) 287-9335 ext. 308.
Sign up for our newsletter
By submitting this form, you are granting: Rochester Athletic Club, 3100 19th Street NW, Rochester, Minnesota, 55901, United States, http://www.racmn.com permission to email you. You may unsubscribe via the link found at the bottom of every email. (See our Email Privacy Policy for details.)