19 Real Life Strategies for Finding the Time to Exercise
No time to work out? REALLY?
Ok I hear you, I do. Life is busy – work is demanding, kids have over packed schedules (someone inevitably gets a cold), laundry piles up, family and friend commitments are important, but SO ARE YOU!!
Let's quickly recap why we exercise:
Improved energy
Better sleep
Reduced stress
Stronger, leaner physique
To be a great role model for your family
And let's not forget the huge list of medical benefits from an improved immune system to a strong cardiovascular one
So, we just need to find the time. Let's start here as I know you're busy and every minute counts. Invest some upfront time in analyzing your week so you can block off time in your schedule. And I really mean block off – put it on your calendar, set a reminder and follow through. Be honest with yourself about the difference between a real emergency and making excuses and start your routine.
I suggest starting by blocking off at least 30 minutes of physical movement daily. Everyone's goals are different, so depending on whether you're training for a competition, trying to lose weight or simply trying to keep it all together and look good while doing it, the routine and intensity levels will vary. Some of these workouts can be high intensity and longer duration while other days can be simpler like 30 minutes on a cardio machine or walking, a Tabata/core routine at home or a yoga/mediation session.
Tips and tricks for making it all work in real life:
Schedule your workouts on a weekly or monthly basis. You have 15 opportunities to exercise Mon-Fri (Morning, Lunch, Evening). Eliminate the question "is today a workout day" and instead say "every day is a healthy day" – then look to your calendar to see if it is a high or low intensity day. If you do compound moves that work more than one body part at once, you can squeeze in a full body workout in 30-40 minutes.
If 30 minutes straight is just not possible one day due to an unforeseeable emergency, then break it up. Lay out your clothes before bed, wake up 15 minutes early and get your body moving. Always start with a warm up by doing some dynamic stretches (don't worry, this counts towards your goals!) and then move into an intense HIIT, Tabata or body weight circuit. Later on that day, try to walk during lunch and finish the day with a relaxing 15 minutes of stretching (or if you're feeling motivated, slip in a 7 minute core workout).
Just too busy at work? The truth is we can all get out of the office when necessary and your health is as important as any crisis. Take some work home with you. Get your workout in, spend time with the family and then finish up those last few tasks.
Just home from a crazy day at work and the kids are running wild? Workout together for 10-15 minutes: jumping jacks, planks, bridges, burpees, push-ups, sit-ups, squats, lunges. Kids love to move and once they have burnt off some energy and connected with you in a fun way, they can help you in the kitchen or will be better focused on their homework.
Happy hour or dinner with friends? Know your schedule in advance and plan accordingly, get up early that morning or make time during the day to get your workouts in. You'll enjoy your night out much more knowing you've taken care of your health first. Have a plan going in for how you're going to manage your nutrition. With a little planning, it is possible to enjoy yourself without undoing all your hard work over the week. If possible, check out the menu in advance so you have a couple of healthy options in mind.
Try something new and invite your friends to get active with you; go for a run, try a class together or do something new like rock climbing, ice-skating or hitting up a trampoline park! Healthy, fit people tend to hang out with other like-minded people, so start a trend and get healthy together.
Create an accountability system. For the majority of people, especially those starting out, it can be the difference between success and failure. Not only does recording your success help you stay on track but it's also a great way to learn tips and advice specific to people in your life and location (like how to survive the Minnesota winter!) You can tell one important person or a private Instagram group but definitely tell someone. It's extremely rewarding, especially when you have reached your monthly milestones.
It can also be extremely helpful to have a 3-6 month goal…a warm weather vacation, an outfit you'd like to wear for a wedding, a charity 5k…having a deadline increases your likelihood of success and helps you stay on track.
Parents with little babies? Nap time can be your biggest friend but also take advantage of the park, stroller walks/jogs with other parents or skip the coffee and muffins and create a basement workout group while your kids are enjoying their play date!
Not a morning person and limited flexibility to work out during the day? Then plan your workouts immediately after work or after picking the kids up from school. The kids can burn off steam with their buddies, while you de-stress and get your workout in. This plan relies heavily on having a nutritional plan in place so dinner can be on the table in 15 minutes or less to avoid the goal-sabotaging stop at a fast food joint on the way home.
If you plan to workout at home after getting everyone settled, then change into your workout clothes immediately. Turn on your favorite show or catch up on a good podcast and you'll be done before the procrastination sets in! Take it one step further and make a mini home gym with some bands, a physio ball and put on a fun workout DVD.
Use your commute for your benefit! Try biking or walking to work, or get off the bus/train a few stops early and get your steps in. You could use this time to meditate or catch up on the phone with a friend you haven't connected with in a while. You'll arrive to work refreshed, energized and more productive.
Headed on vacation? Make it an active one. Walk to see the city sites, hike a mountain, bike around the wineries or if you're feeling particularly motivated, hit up the hotel gym or pool before your day ever starts so it doesn't interfere with your plans.
Feel like you have no time to connect with your partner? Try working out together. It's more fun than you think and the benefits of seeing each other work towards your goals and achieve them is super rewarding. Ask us for more details on how you can do your personal training sessions together at no additional cost!
Is the couch, your favorite show or game calling you to the TV in the evening? Have a plan. Have a few exercises written out to do during the commercials (see how many pushups, sit-ups, squats or lunges you can do during a break) or if you can skip the ads, encourage yourself to do a 15 minutes workout before you sit down and reward yourself with stretching and the remote once you've completed it.
Teach your children that strong and healthy is beautiful. Teach them that Mom and Dad's health is important too. Teach them that working out can be fun. Teach them that commitment, goal setting and accountability are important by not cancelling on your health. Kids are never too young to start learning about the importance of a healthy body and mind, about a positive body image and delicious nutrition to fuel their passions.
Can't find the time? Most of us have unused time in our day. Those 30 minutes on Instagram or Pinterest, 15 minutes checking email or cleaning. Bundle these random lost minutes into a workout. Use the 'screen lock' on your iPhone if you have one to lock your social media apps after a specific amount of time or use apps like Rescue Time to identify where you can find time in your day.
If your 30 minutes one day gets screwed up, don't beat yourself up. That's the beauty of blocking off at least 30 minutes daily. If it gets cut short one day, do 60 minutes on another day when life is less hectic to balance it out.
Remember that all activity counts no matter how small, because even small moves done frequently throughout the day will add up to big changes over time! Take the stairs instead of the elevator, walk around while you're on the phone, park in the furthest space from the store or office to get some extra steps. Wear a pedometer of some sort and aim for 8,000-10,000 steps per day. If you reach it, have a mini reward (dealer's choice - but probably not food related if your goal is weight loss) for that day.
When you are healthy and happy the trickle-down effect on the family, your work productivity and your involvement in your community is noticeable! We all have habits we'd like to eliminate. Make staying fit and healthy a habit you are truly proud of J
So let's go back to the beginning…identify what obstacles are preventing you from fitting your workout routine into your life? Need help figuring it out? Schedule a complimentary 20 minute consult today and I'll help you strategize a plan to get you going!
All the best. Stay happy and healthy!
Sandra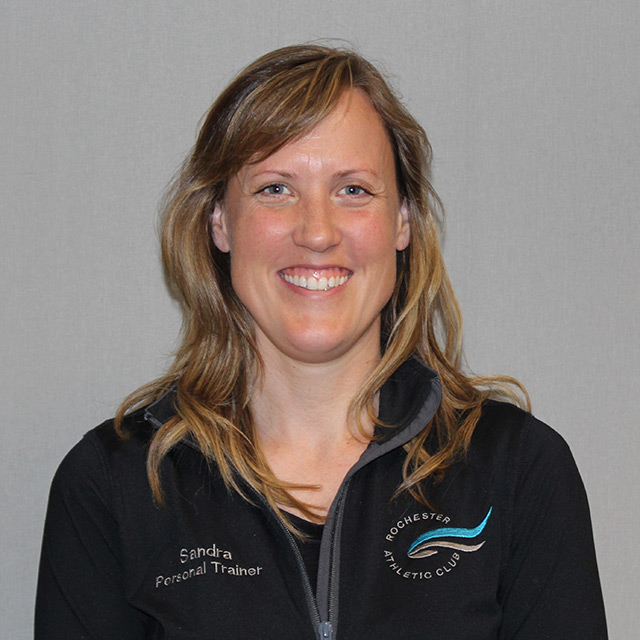 Sandra Reid
With a Masters in Exercise Physiology from Trinity College in Dublin, Ireland, Sandra has a strong background in tailoring client-specific programs. She loves to cook, hike mountains and take on any challenge her children (or husband) toss at her, so staying healthy, strong and positive is the cornerstone of her health journey.

Contact Sandra Reid