Countless Options for Any Routine
As you enter our Club, it's hard not to notice the open, spacious feeling that greets you. This is a great place to be active! You can feel the energy. When it comes to cardiovascular and weight training options, we have the equipment for you.
Highlights

More than 100 pieces of cardiovascular equipment
Large free weight areas
Multiple circuit training options
Stretching areas and equipment
Dozens of equipment options from plyometric jump boxes, to BOSUs, to kettlebells that allow for specialty workouts
New EGYM studio
Preva System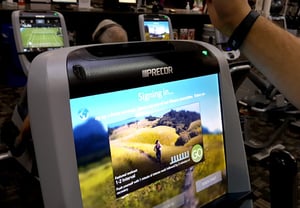 Most of our Precor cardiovascular machines are networked with the Preva system. Preva is a personalized, goal-focused fitness and media experience. The touch screen allows you to set goals, track your workouts, surf the web, watch TV, and make your workout more entertaining, informative, and enjoyable. The corresponding app allows you to track workouts outside the Club. Once your account is set up, you can sign in automatically with a wave of your Electronic ID (EID).
To see Preva and learn more about how it works view this Preva system video.
Assistance on the Fitness Floor
The Fitness Floor is always staffed with our fitness team ready to assist members. We love to answer questions and set members up for success. We understand that each person uses the club differently, and we want you to have a unique workout designed for your personality and circumstances. Please stop by the Fitness Desk and talk with us – we love to help!
Let us:
Connect you to the group fitness class that becomes your new favorite
Help you to learn to work out safely and effectively
Introduce you to new workout trends and information
Add variety to your workouts
Give tips for how you can achieve your goals faster
Show how you can benefit from the great variety our club has to offer
Lead you to the next step on your journey!
Fitness Floor Etiquette
Working out works so much better with consideration for those around you. Learn more about Fitness Floor Etiquette. If you have questions about specific club rules please contact the Member Handbook, Fitness Staff or Fitness Director.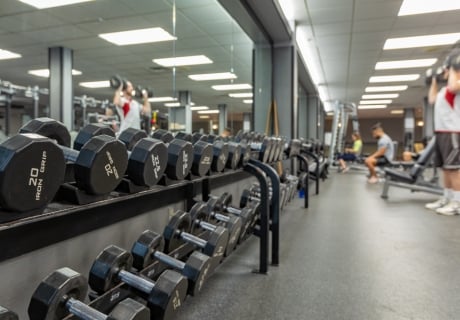 Fitness Floor Orientations
New members old enough to use the Fitness Floor (ages 13 and older) may take advantage of two Fitness Floor Orientation meetings with a personal trainer. These adjust to your fitness level, and for those who are new or returning to exercise include guidance on using cardiovascular equipment options and experience with how to safely perform exercises within a balanced strength program.
Adult Cardio and EGYM Studio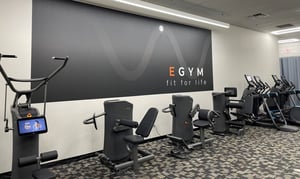 Reserved for those 18 and older, this area offers a quieter and more private area to work out. It also features our new EGYM circuit which offers smart, personalized workouts that deliver real results. It is next-level technology that helps to both simplify and improve your workout experience.
See videos describing how it works and learn more on the EGYM webpage.
Lower Free Weight Area
Across from the Adult Cardio and EGYM Studio is an additional strength training room open to ages 13 and up. Besides providing additional power racks, it features bumper plates, competition style benches and specialty bars.
Indoor Track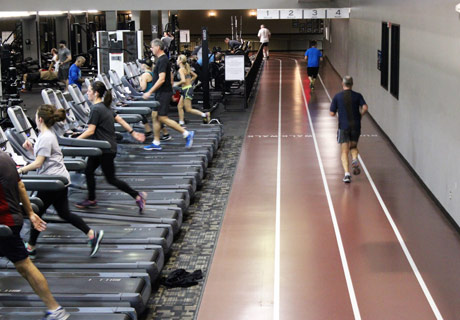 The weather is always perfect on our cushioned, nine-laps-to-a-mile, four lane indoor track. Walk side-by-side and talk with a friend on the inside lanes or run on the two outer lanes which are banked for higher speeds.
Most days of the week the track is reserved for use by those 13 years of age or older. However, during Family Track Time on Saturdays and Sundays from 3:30 PM - close, children are allowed to use the track under parent supervision. Parents must be exercising beside their children during Family Track Time. For safety reasons, children should not be left alone on the track.