Technology Meets Luxury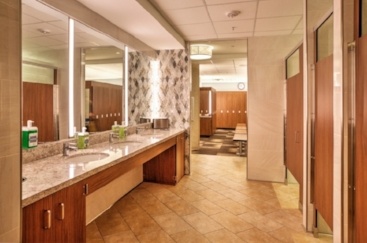 Our men's and women's locker rooms have all the amenities needed to compliment a workout. From large fluffy towels, to spacious showers, to convenience items you need to prepare for your day. This is your spot to relax and escape from the busy world.
Whirlpool
Steam Room
Sauna
6-foot-tall networked daily use lockers
Adult-only sections
Mother's room for nursing or quiet time
Changing rooms in women's locker room
Permanent lockers available for rent. Details are available at the front desk.
Family Locker Room
Parents with small children will appreciate our Family Locker Room. With six private changing rooms equipped with a shower, toilet, vanity, and changing table, it is the perfect place for parents with little ones. This area also has accessible changing areas and showers for those needing a hand rail or seat in the shower.
Use your Electronic ID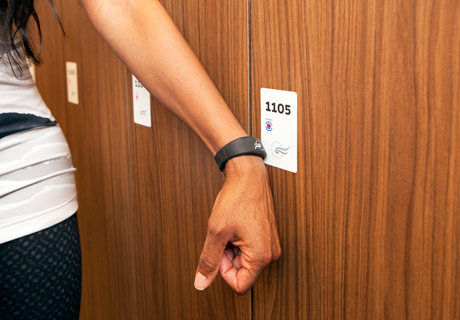 Our electronic ID (EID) technology gives you peace-of-mind that your belongings and children are safe. In the locker room areas, EIDs restrict small children from gaining unsupervised access to the pool area and provide a higher level of security for your belongings. Lockers are individually alarmed once you have locked them with your EID and only you have access to the locker you have selected to use during your visit at the club.
Your EID comes in three convenient forms – a wristband, card, or fob. Watch this video to learn how EIDs make the club more convenient and safe.
Locker Room Etiquette
We want our members to have a great experience throughout the club. Learn more about Club Etiquette.