We Redefined Family Entertainment Center
The Neighborhood is unlike anything you'll find at another gym. It's not just an area for kids, but an activity center for the entire family. With limitless possibilities, the space was designed to provide a safe place to encourage active play.
The Neighborhood Features:
An 17-hole miniature golf course
Aeroball trampoline basketball
Basketball and Indoor Soccer Gym
Batting Cages and Throwing Areas
Carpetball
Gaga ball play area
Galaxy Collision four way air hockey
Golf cages
Hockey and Lacrosse shooting area
Hoop Fever basketball shooting games
Lots of fun game and play equipment
Mat area for creative play
Ping Pong and Foosball games
PlaySmart multilevel play structure
Snack, Smoothie, and Slushie Bar
Neighborhood Child Check-In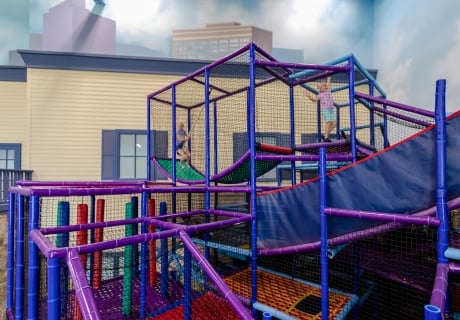 When the Neighborhood staff is on duty, children ages 7-12 can be checked-in to the Neighborhood while parents use other parts of the Club. Our staff will check out equipment, monitor play and facilitate games as needed. They love working with kids to create a fun, safe, and entertaining environment.
Neighborhood FAQ