7 Coping Strategies during the Coronavirus Pandemic
While I write this blog, I'm sitting at home. The RAC is closed. Closed! The RAC rarely closes. Basically, unless conditions are extremely dangerous, the RAC will remain open to service its members. Yet, we have all been ordered to stay at home.
My dad has often retold the story of his entire family being quarantined.
My father contracted Scarlet Fever when he was a kid. The way he tells the saga, his older siblings still haven't forgiven him for all the activities they had to miss due to their little brother's illness. Whenever I heard that story, I would think wow I'm so fortunate to grow up in the late 90's and 21st century. I just assumed quarantines were relegated to the past. Yet, here I am at home with my boys.
As a personal trainer, I speak to my clients daily about all health aspects. We discuss cardiovascular and strength training, healthy eating, flexibility, proper sleep routines, hygiene as well as stress reduction. I have to admit this coronavirus has created great anxiety and stress for me. My five year old has chronic lung disease and my parents are in a very high risk category. Moreover, I've had to learn how try and help my family without being near them.
With my son's premature birth, a mantra I adopted was there are some things in life I can control, but many that are out of my control. It was best for me to focus on what I could influence and remain positive. Similarly, the uncertainty of this pandemic can be nerve racking. But, the sooner adjustments are made, the new normal begins.
Here are 7 tips and tricks that help me to relieve stress and anxiety. I hope they help to reduce stress, protect the immune system, as well as provide a new perspective.
1. Exercise - My favorite for stress reduction is EXERCISE! Exercise reduces levels of the body's stress hormones adrenaline and cortisol. It also produces endorphins. Part of our brain chemistry, endorphins are the body's natural painkillers and mood elevators. Endorphins help produce the "runner's high" and the feelings of relaxation and optimism after a workout.
Even though the RAC is closed, it's still possible to aerobically exercise and do strength training. My favorite aerobic activities include running, hiking through parks (while keeping social distance of course), bike rides and at home strength training using bodyweight, hand weights, stability balls, medicine balls and bands. My fellow trainers have posted some great videos resources on the Rochester Athletic Club Facebook page.
2. Eat Right - I've made sure to keep healthy foods in my house and not purchase junk food. Stress eating is a real distraction. When stressed and confined to the home, it can be easy to reach for those unhealthy foods. Try to make sure these foods are not stocked in the pantry. Fueling with healthy foods will keep the body in top shape.
3. Set Appropriate Goals - With two extremely active sons, I would like to say everything is running smoothly. In the perfect scenario, we would be keeping up with all the school subjects, practicing piano, attempting various sports all while keeping the house tidy. We do get some of those things done every day. However, we also take time to connect as a family.
4. Connect With Nature - The goal is each day is to get outside and connect with nature. Breathing in fresh air can improve mental health and can help to reduce blood pressure, heart rate, muscle tension, and the production of stress hormones. My boys and I usually bike a moderate distance or take walks through our neighborhood.
5. Stay Connected - The great news about quarantine in the 21st century is technology. Through Skype, WhatsApp, Facebook, Zoom and cell phones, it's much easier to stay connected to clients, friends and family. Just sharing my anxieties has been helpful in reducing my stress level. Although screen time can be great for connecting, I'm also very careful to not overuse it or have access to media reporting. It could create the opposite affect and increase my worries.
6. Sleep - Even though I have no reason to set an alarm right now, I've been maintaining my usual sleep routine. Stress is amplified when there is sleep deprivation. By keeping a routine, it provides the opportunity to be rested to handle all that comes my way.
7. Yoga and Breathing Exercises - I have rediscovered my long lost yoga DVDs. In the past, I had the intention of practicing yoga. But, as you can probably relate, I never found the time. Additionally, the RAC group fitness team has posted some wonderful yoga options on Facebook with a Vinyasa class and a daily prescription for easing the mind and the body.
Yoga, meditation and deep breathing exercises all help with relaxation. Practicing mindfulness reminds us to stay present. The focus is about being present and prepared for the future - as well as to avoid obsessing about it.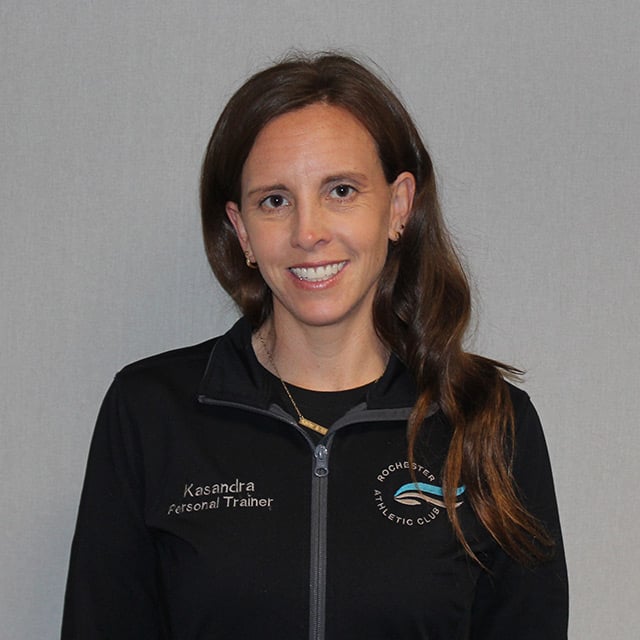 Kasi Boucher-Zawaira
Kasi is originally from Taylors Falls, Minnesota and moved to Rochester in 2005. In college she was a Division 2 All-Conference tennis player. Away from work, Kasi enjoys spending time outdoors with her two boys and family.

Contact Kasi Boucher-Zawaira at (507) 287-9335 ext. 363.
Sign up for our newsletter
By submitting this form, you are granting: Rochester Athletic Club, 3100 19th Street NW, Rochester, Minnesota, 55901, United States, http://www.racmn.com permission to email you. You may unsubscribe via the link found at the bottom of every email. (See our Email Privacy Policy for details.)