Are you interested in training for your first or fiftieth marathon?
There are a variety of training approaches that you can take. To help reduce your chances of running-related injuries as well as maximize your performance it is important to properly increase your mileage, include various types of runs, and cross train.
A marathon is a 26.2-mile race that is an intense experience - both physically and emotionally. Most people who complete a marathon would describe both the training and the event as a life-changing experience. There are also many health benefits associated with marathon training. These include improvements in cardiovascular fitness, muscular endurance, mental health and self-esteem.1
It is critical to develop a training plan when preparing for a marathon. A plan will help to maximize the benefits and reduce the risk of overuse injuries. My goal is to discuss the components of a good training plan. There will be a sample intermediate level marathon training plan included at the end for reference.
To start, it is important to begin with a base of aerobic fitness and gradually build up your training volume over time.
If training volume or intensity is increased too quickly, it can result in overuse injuries such as stress fractures, muscle strains, tendinitis, and chronic fatigue.1 Pace your training by following a schedule that includes runs varying in distance, time, terrain, and intensity. This variation in training will also help you to stay motivated and avoid burnout during training.1
Depending on one's level of experience, most runners complete a training plan that lasts 3-4 months.1 This allows for adequate time to build up endurance and for the body to adapt to the training volume. The following are some important basic concepts to understand during marathon training:
It is recommended to never increase your training volume by more than 10% each week.
Rest and recovery are critical to prevent injuries and mental burnout.
During each week, one should run 4-5 days, spend one day cross training, and one day resting.
What types of runs should you include in your training plan?
A basic training plan should include a long run every 7-10 days, speed work, and recovery runs .2
The long run is the longest run of the week and consists of 20-30% of the weekly mileage. It should be run at a conversational pace which is typically 10-20% slower per mile than marathon pace. It is intended to build endurance as well as mental toughness. Most marathon training plans will work up to a longest run of 20 miles which is typically performed a month prior to race day.2


Speed work should also be included in the weekly training plan:

One option for speed work is tempo runs or lactate threshold runs which are continuous runs at a "hard" pace. These will improve the body's ability to work at high intensities, lactate threshold and mental focus.2 The intensity of speed workouts can be measured using a perceived exertion scale of 8/10 or achieving 85-90% of one's max heart rate.3
Intervals are another great way to improve maximal oxygen uptake and fitness. Interval runs typically incorporate repeats that consist of efforts between 200 and 1600 meters. An example of an interval run would be 6 x 800-meter efforts at a hard pace with a 400 meter jog between each effort.

Another type of speed workout that can be included in a training plan is a progression run. This is a run that progressively gets faster. For example, an individual might start at an easy pace for 1-3 miles and then gradually increase the pace by 15-30 seconds for each consecutive mile for a total of 10 miles. Progression runs will build physical and mental ability to hold a good pace as one fatigues.2
Recovery runs are also an important part of a training plan. These are easy runs that fall either before or after a harder workout and are performed at an easy self-selected pace. These will help the body recover and prepare for another hard workout.3
Overuse injuries are very common in runners. It has been reported that 19.4%-79.3% of runners experience lower extremity injuries.4 Some of the most common injuries include patellofemoral pain, shin splints, stress fractures, Achilles tendinopathy, iliotibial band syndrome, and plantar fasciitis.4
Some of the factors that can predispose runners to injuries include excessive training volume and rapid increase in volume. This highlights the importance of sticking to a marathon training plan.5 An effective strategy to prevent overuse injuries is to incorporate cross training into a running program. Cross training can allow an athlete to improve cardiovascular fitness without overtaxing the body. Some examples include weight-lifting, cycling, swimming, rowing, and stair climbing.
Marathon training is an exciting and rewarding experience. In order to maximize your performance and minimize your risk of injury, find a training plan that matches your level and be sure to stick to it. An example of an intermediate marathon training plan is included below.2 And remember, it doesn't matter how slow you run, you are still lapping everyone on the couch!
An Example Intermediate Level Training Program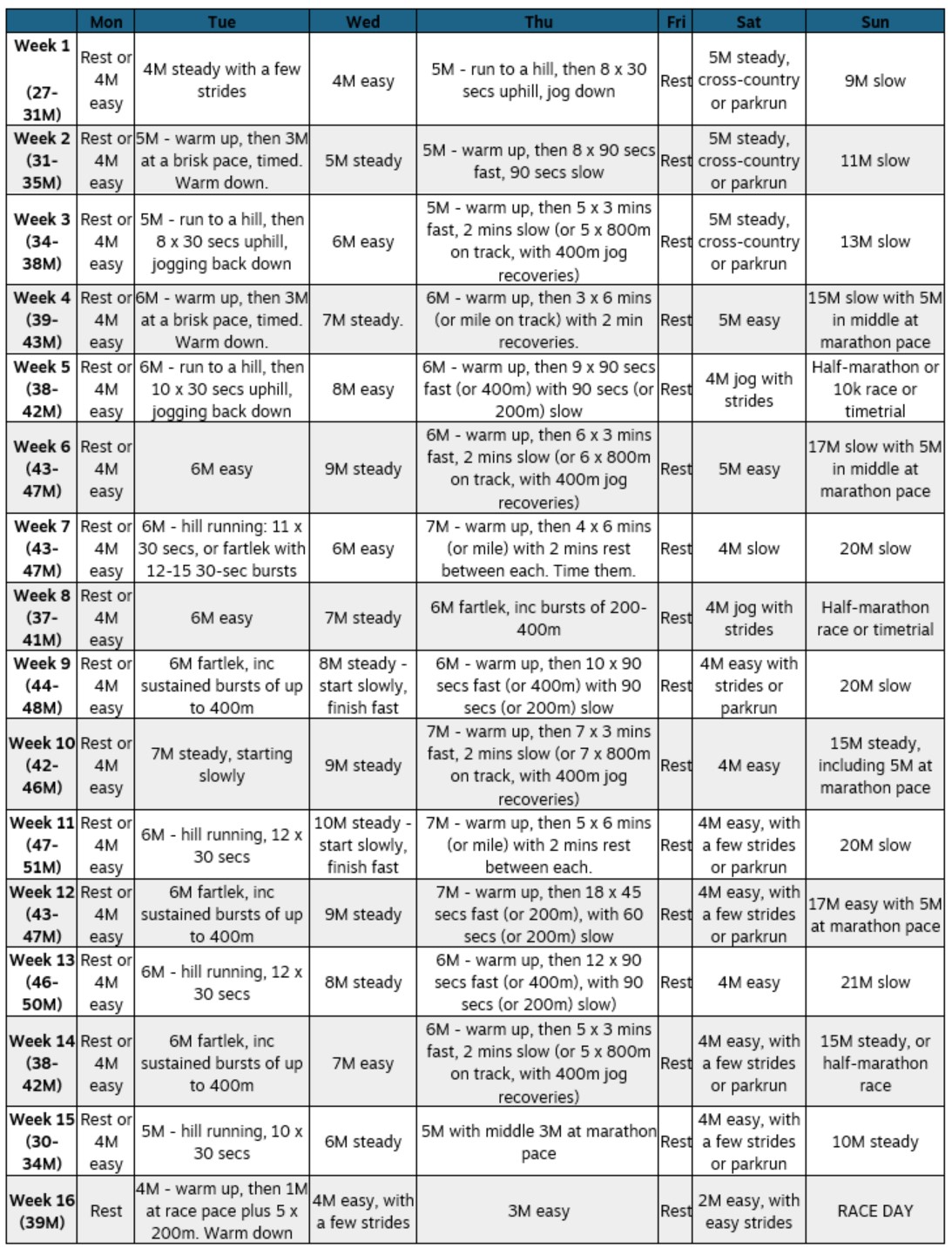 References:
Miller, T. (2020, August 11). What to know about training for a marathon. Osu.Edu. https://wexnermedical.osu.edu/blog/health-benefits-of-running-a-marathon
Runner's World. (2019, January 15). RW's Basic Marathon Schedules: A 16-week training plan for runners looking to finish between 3:30-4:30. Runner's World. Retrieved May 30, 2022, from https://www.runnersworld.com/uk/training/marathon/a760109/rws-basic-marathon-schedules-intermediate/
Weismann-Yee, R. (2009).Selecting a Marathon Training Program (Doctoral dissertation).
Van Gent, B. R., Siem, D. D., van Middelkoop, M., van Os, T. A., Bierma-Zeinstra, S. S., & Koes, B. B. (2007). Incidence and determinants of lower extremity running injuries in long distance runners: a systematic review.British journal of sports medicine.
O'Toole M. L. (1992). Prevention and treatment of injuries to runners. Medicine and science in sports and exercise, 24(9 Suppl), S360–S363. https://doi.org/10.1249/00005768-199209001-00010
Sign up for our newsletter
By submitting this form, you are granting: Rochester Athletic Club, 3100 19th Street NW, Rochester, Minnesota, 55901, United States, http://www.racmn.com permission to email you. You may unsubscribe via the link found at the bottom of every email. (See our Email Privacy Policy for details.)