How many of you have seen kettlebells around the club and thought to yourself, could I use them? Of course you can, and the better question is, why not? Kettlebells are a great way to improve many areas of wellness. Throughout this blog I will be highlighting several reasons you should use them, along with some of the best exercises for the beginner kettlebell user.
Reasons to Use Kettlebells

Reason #1 – Increase strength
As we grow older our body begins to gradually lose muscle mass and strength. This is known as age-related sarcopenia. The rate of this age-related muscle atrophy increases as we get older, and most commonly affects people over the age of 60 years old.
In general, maintaining a healthy lifestyle through diet and exercise can help keep you strong and steady. However, research has shown the use of kettlebells in the senior population to increase muscle and strength, counteracting age-related sarcopenia. As your overall strength increases you may see a reduction/elimination in back pain, an increase in grip strength, and an improvement in balance.
Reason #2 – Increase balance and bone density
Kettlebells are a great way to improve your balance and increase bone density. Many kettlebell exercises are multijoint movements which challenge the body through balance and footing. As these exercises challenge your balance, they are also strengthening your bones by adding forces through various ranges of motions. A combination of increase in strength, better balance, and bone density can reduce the risk of falls and injuries.
Reason #3 – Increase functional mobility and endurance
Kettlebells have a handle with a bell weight that can be used with one hand or two. The movements can be single joint or multijoint and can be used in repetitive movements that can increase strength, endurance, and cardiovascular health. You can use kettlebells from a standing position, seated position or lying position, and transition through different planes of motion during kettlebell exercises.
Reason #4 – Increase mental wellbeing
As we age, we sometimes struggle with our ability to do different tasks. Kettlebells are a great way to explore what you are capable of, and what you will be capable of doing. As you learn how to use a kettlebell you will teach your body new movements and become more confident in what you can do. You may also discover new abilities that you might have questioned even attempting before. In addition, exercise can help improve stress, anxiety, depression, dementia, cognitive function, and more.


Basic Exercises Using Kettlebells

Now, let's explore some exercises for the kettlebell beginner. Like most things, you want to master the basics before attempting advanced exercises. The exercises highlighted are exercises the aging population can benefit from and should consider trying. As with any exercise, if you have limitations, need to be shown an exercise, or are uncomfortable performing an exercise, please ask a Personal Trainer for their expertise.
Exercise #1 – Kettlebell Deadlift – Place kettlebell on the floor between legs. Hinge the hip and lower to grab handle. Initiate lift with legs until knee height and finish with extending back and legs into an upright position.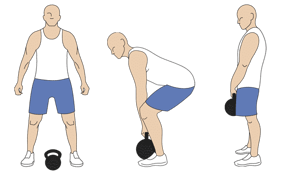 Exercise #2 – Kettlebell Goblet Squat – Hold kettlebell by horns at upper chest height. Hinge hip and lower into a squat (50° angle will help preserve knees and improve balance). Push your feet through the floor and stand back up to upright position.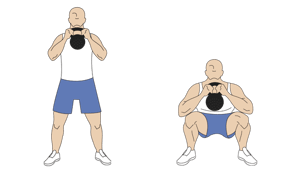 Exercise #3 – Kettlebell Swing – Hold kettlebell handle and let hang between legs. Hinge back and drive hips forward to raise kettlebell to shoulder height. Allow kettlebell to return to starting position and repeat.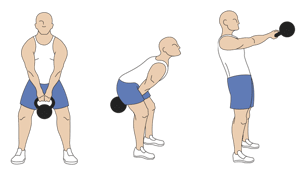 Exercise 4 – Kettlebell Halo – Hold kettlebell horns at head level. Rotate the kettlebell around the head. Repeat in both directions.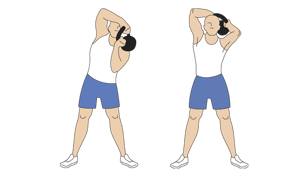 Exercise 5 – Kettlebell Figure 8 – Place kettlebell on the floor between legs. Hinge hips and pick the kettlebell off the floor with right hand. In a slight squatting position (avoid rounding of back) swing the kettlebell through legs and pass to left hand. While in the left-hand circle around the left leg and continue through the legs to pass the kettlebell into the right hand. Once in right hand continue the movement around the right leg to complete a figure 8 pattern. Repeat in a smooth controlled pattern.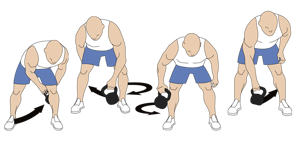 In general, if you can do an exercise with a dumbbell, you can most likely do a variation of it with a kettlebell. A few examples would be a bicep curl, chest press, and bent over row. Where kettlebells vary is in their weight distribution, the ability to have natural weight movement exercises, and easy hand transfers. This is due to the three-part design (handle, horn, kettlebell weight) of the kettlebell. A couple of examples of exercises that are best suited for kettlebells due to kettlebell design are the Kettlebell Swing and the Kettlebell Figure 8.
In Conclusion
Kettlebell training can be a good choice for people of all ages. They can be used to improve musculoskeletal fitness, cardiorespiratory fitness, and mental wellbeing. The exercises shown are exercises that can be done to familiarize yourself with the use of kettlebells. Before starting any workout be sure to perform a proper warmup, and don't forget to stretch after exercise.
If you would like more information on the use of kettlebells, fitness, or wellness please don't hesitate to connect with me or another Personal Trainer. You can learn more about our RAC Personal Trainers on our "Meet our Trainers" webpage.
References
Chen, H. T., Wu, H. J., Chen, Y. J., Ho, S. Y., & Chung, Y. C. (2018). Effects of 8-week kettlebell training on body composition, muscle strength, pulmonary function, and chronic low-grade inflammation in elderly women with sarcopenia. Experimental Gerontology, 112, 112–118. https://doi.org/10.1016/j.exger.2018.09.015
Images: RX Fitness Equipment | Exercise Equipment – Fitness Accessories – Thousand Oaks • Anaheim Hills • Mission Viejo