The Structure: What is the shoulder made of?
The Bones:
The shoulder consists of the following 3 bones:
scapula (shoulder blade)
clavicle (collar bone)
humerus (upper arm)
The Joints:
When considering the shoulder joint, it is important to include the entire shoulder girdle as very few movements - functional or sport - will occur without all four joints in the shoulder girdle being involved.
The four joints are the:
sternoclavicular (sternum and collar bone)
scapulothoracic (shoulder blade and rib cage)
acromioclavicular (shoulder blade and collarbone)
glenohumeral (shoulder blade and upper arm bone)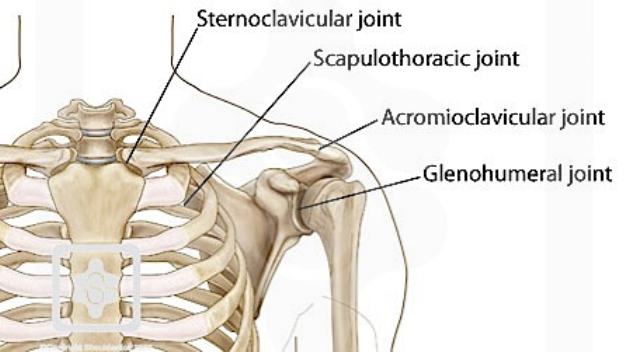 The Muscles
The muscles that are involved in the shoulder and shoulder girdle are the:
pectoralis major ("pecs")
latissimus dorsi ('lats')
teres major
deltoids (anterior, lateral and posterior)
trapezius (upper, mid and lower)
levator scapular
pectoralis minor
serratus anterior
and, to a small degree, the biceps and triceps
The trapezius, levator scapular, pectoralis minor and serratus anterior are critical to proper shoulder positioning and movement patterns. A major component of the function of the glenohumeral joint (what everyone calls the "shoulder") is dependent on the rotator cuff formed by the "SITS" muscles (Supraspinatus, Infraspinatus, Teres minor and Subscapularis).
The Function - How does the shoulder work?
Each of the muscles perform specific movements. In addition, there are many shoulder and arm movements that require groups of muscles to work in very specific patterns to perform the movement safely and effectively. Take the rotator cuff for example.
The rotator cuff muscles perform rotation of the arm in the shoulder joint (glenohumeral). However, one of the most important functions that they perform is to hold the arm in place in the socket. The shoulder joint is basically a ball and socket joint but it has a very shallow socket. This helps the shoulder have lots of range of motion, but also makes it by nature to be very unstable.
The rotator cuff muscles add to the stability by creating a sort of "dynamic socket". As a person starts to move the arm, the first thing that happens (or should happen) is the rotator cuff muscles fire up and help hold the arm in the socket (humerus in the glenohumeral joint). If this pattern is not trained properly, it will most likely lead to all sorts of shoulder problems including bicep tendonitis, rotator cuff tendonitis and tears, bursitis and other forms of "itis" (read "pain").
The Exercises - How do you stabilize and strengthen the shoulder?
Stabilizing:
The trapezius (upper, mid and lower) and rhomboids play an important role in stabilizing the shoulder blade especially during chest exercises. They also play a critical role in accommodating safe, effective full range of motion (ROM) when reaching overhead and out to the side above shoulder height.
As noted in the previous section, the rotator cuff muscles also play an important role in stabilizing the arm in the shoulder socket.
The following are some tools and exercises* to help stabilize:
Bosu and/or stability ball plank - pushup position with no movement
Bosu and/or stability ball pushups - pushup with hands on floor, feet on Bosu/ball or pushup with hands on Bosu/ball, feet on floor
Remember: "Stability before mobility; If you can't hold still, you're not ready to move."

Dynamic strengthening exercises* for the shoulders and the primary muscles involved:
Lat row - latissimus dorsi, teres major move the arm; the rhomboids and mid-traps assist pinching shoulder blades back (scapular retraction).
Use machines, cable, dumbbells, kettlebells, resistance bands
Lat pulldown - latissimus dorsi, teres major; rhomboids and mid-traps (retraction) lower-traps assist pulling shoulder blades down (scapular depression).
Use: machines, cable, resistance bands
Straight-arm extension - latissimus dorsi, teres major, triceps assist by holding elbows straight; rhomboids and mid-traps (retraction) lower-traps assist pulling shoulder blades down (scapular depression).
Use: cable, resistance bands
Horizontal Chest press - pectoralis major (sternal portion), anterior deltoid and tricep may assist; rhomboids and mid-traps stabilize shoulders blades holding them in retraction.
Use: machines, cable, dumbbells, resistance bands
Incline Chest press - pectoralis major (clavicular portion), anterior deltoid and tricep may assist; rhomboids and mid-traps stabilize shoulders blades holding them in retraction.
Use: machines, cable, dumbbells, resistance bands
Shoulder press (standing) - anterior deltoid, tricep may assist; scapula moves as arm moves up past chest height.
Use dumbbells
Rear delt row - rear deltoid; rhomboids and mid-traps assist pinching shoulder blades back (scapular retraction).
Use: machines, cable, dumbbells, resistance bands
Additional exercises* to challenge shoulder/shoulder girdle stability:
Triceps extensions (elbow extension) - various positions: kickback with cable or resistance band (shoulder hyperextension of 30 degrees); elbow at side (shoulder at 0 degrees flexion); elbow up (shoulder at 120 degrees of flexion)
Biceps curls (elbow flexion) - various positions: elbow at side (shoulder at 0 degrees flexion); elbow up (shoulder at 120 degrees of flexion)
*Ask Fitness Floor staff or RAC Personal Trainers for exercise instruction
RESOURCES:
Image 1: Bones & Joints of the Shoulder (ShoulderDoc | Website last updated: 19/01/2022)
Image 2: Muscles of the Pectoral Girdle and Upper Limbs [Douglas College Human Anatomy and Physiology I (1st ed.)]