What I Have Learned Training Elite Tennis Players
Over the years, my tennis students have taught me many valuable lessons on the court. It is a constant learning process for me, as the needs of the players I coach can vary. However, there are a few consistent strategies that I have found that are highly useful in helping players reach a more elite level of performance. I would like to share them here as advice for you as a player (or as a parent!).
Play Multiple Sports
There are some notable exceptions, but most successful tennis players do not specialize in tennis at an early age. In fact, many of the best players play multiple sports going into high school and even during high school. Playing multiple sports is a great way to develop athletic skills, competitive traits, and also to keep tennis fresh and fun.
In my personal experience, I developed throwing skills by playing baseball that translated into a strong service motion. I played basketball through most of high school which had a huge impact on footwork and overall movement on the tennis court. Likewise, many professional tennis players growing up outside the United States played soccer as youngsters. The footwork of many of these players can be attributed to their training in soccer.
I have seen the positive effect of cross training in a majority of the elite players I have worked with. Tennis players will see the results much more by training in sports that involve anaerobic activity. Some of the sports that I would recommend for cross training are basketball, hockey, soccer, and swimming. These sports all involve explosive movements that transfer onto the tennis court.
Multiple sport athletes also stay physically and mentally fresher. The idea of doing the same activity for 12 months of the year without a break has always worried me. Playing a different sport for a couple months while cutting back on your time on a tennis court can help you stay away from some of the overuse injuries that can easily occur if you grind on a tennis court every day. Although it may take a little while to knock off the rust going from a season of basketball into the tennis season, it is very important for you to have a fresh mental outlook to bring energy to practice each day!
Learn Fundamentals/Technique Early
In my mid twenties, I decided to try skiing for the first time in my life. This experience was one of the scariest two hours of my life. As I attempted to navigate the bunny hill, young kids flew past me and my friends had a great time laughing at my struggles. I can hit a backhand with my eyes closed, but going down a hill with foreign objects strapped to my feet was going to take some practice!
As a tennis instructor, the young kids that listen and attempt the new skills that we teach learn tennis skills that last a lifetime - sometimes before they learn to multiply. Although it is naturally hard for many kids to focus at an early age, the added advantage they gain by learning some basic technical skills early also helps them develop at an accelerated rate. For example: As a tennis pro, I love to see kids that have learned to use a continental grip on their serve. These kids will be able to attack a serve with a throwing motion and generate spin with ease.
While learning technique early on is a big plus, it is still possible to learn how to play well at a later age. At 39 years old, I know that I am still tinkering with my strokes and striving to make improvements wherever possible. In fact, I serve better now than I did in my twenties. Of course, it would be nice to be as fast on the court as I was then!
Play Both Challenging and Winnable Matches
Becoming a top notch player requires the ability to bring the same energy in your match play no matter who you are competing against. When you are facing a stronger player, can you embrace the challenge? Many players struggle with this and prefer to play winnable matches where you can always look good. Going into a match, you must be prepared to lose. Multiple Grand Slam champion Stan Wawrinka is famous for his quote where he talked about how he has only found success through many failures.
On the other end of this spectrum is the player that only wants to play better players. Learning to work on your game even in a winnable or easy match can help you against a tougher opponent. One of the most frustrating things for me is seeing a stronger player relax and go through the motions against a weaker player. There is much to be gained even in an easy match.
Treat Your Body Well
Tennis is an extremely physical sport that requires explosive movements. Good sleeping habits, a well balanced diet, and off court training are all traits of a high performance player. During a Grand Slam tennis tournament, the top players check off each of these boxes during their free time between matches in order to bring their best to the court.
During a two week span, Novak Djokovic is preparing himself to play seven best of five set matches that can last up to five hours! This is different from the average tournament player, but his routine can be a great example. After each match, top players are getting massages for sore muscles, eating power foods, and resting. Once the tournament is over, there is time for celebration and a couple of cheat meals!
Winning Is Not Everything
While winning makes us feel like we are successful, the wins are only a product of the preparation in tennis. And winning is not guaranteed even if you play your best. The environment of successful tennis players most often involves a support system that does not stress winning.
Coaches and parents play a key role here in stressing the importance of working hard, but not getting frustrated by losses. Any coach or parent that places importance on rankings for a young, developing player is not seeing the big picture. I have seen many 12 year old players that are winning tournaments and matches, but not improving the way they can.
Performance goals should be stressed over outcome goals. Outcome goals are not within our control anyway. I can play a fantastic match, but lose to a great player who also played well. If I am not worried about the outcome, this can be a positive experience that will help me as a player. Performance goals are within our control. Supportive parents and coaches will encourage their players to work on hitting more spin on their serve or coming to the net more in a match. If we get better at the day to day goals, the wins will come!
Bottom Line
Every tennis player is unique. For example Andre Agassi specialized in tennis from an early age and John McEnroe was not known for his off court training regimen. Even though there may be exceptions, I would encourage you to try your best to check off as many of the boxes that I talked about if you would like to be truly elite at tennis, or at any sport that you play. I hope this article can be a guide for aspiring players and parents. Good luck with your journey!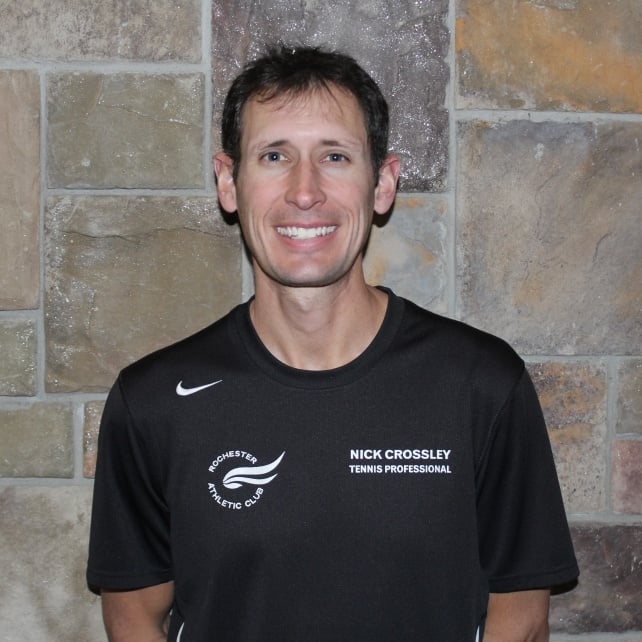 Nick Crossley
Nick has been teaching tennis since 2002 and enjoys working with the casual tennis player as well with higher level college and high school players. Nick is currently the head coach of the Rochester Century boy's high school team and assistant coach of the Carleton College men's team. He enjoys spending his free time with his wife and their two boys.

Contact Nick Crossley at (507) 287-9335 ext. 308.
Sign up for our newsletter
By submitting this form, you are granting: Rochester Athletic Club, 3100 19th Street NW, Rochester, Minnesota, 55901, United States, http://www.racmn.com permission to email you. You may unsubscribe via the link found at the bottom of every email. (See our Email Privacy Policy for details.)